As I know that I mostly write about technical aspects I wanted to refocus a little bit in this post, as I understand that not everyone is as obsessed by my battery situation on the boat as I am, so I wanted to present Almerimar a little bit from my perspective and give you a little glimpse into my everyday life.
The marina is a known wintering place for many sailors. The reasons are probably many, but one for someone like me that is coming from the north is a nice, warm place to do some maintenance and socialize with other boaters at the same time. Needless to say Covid-19 have had a great impact on the community here as we aren't allowed to move about as freely as we usually do, but still there is some socializing that we do.
In the marina there is a radio channel that is very aptly named Almerimar Cruisers Network on channel 67 where we every weekday at 10:00 listen in and try to help each other when possible. Usually it is a reasonably quick affair as most people seems to be well settled in already. But every now and then there are some discussions on how to get something, or someone that wants to lighten their boat a bit and fill up on their sailing chest by selling some items. It's a fun way to start the day!
The one thing that I have as a fixed event during the weeks are the hikes that we do. As the lock down has been relieved lately we once again can go into the mountains for a few hours of something else than being confined to my boat and the marina. But I get back to that later.
Almerimar is a small town on the tip of southern Spain, mostly focused on tourism in the shape of beaches, golfing and sailing. The weather is quite nice, as it is mostly sunny and reasonably warm the year around. The town, and the entire area, has been developed heavily in the latest decades with more hotels and a larger marina for more boats. It is hard for me to say anything about the town in a "ordinary" year, but I can see from the wide walks along the ocean, the many restaurants and pubs that what I experience is far from the norm. It isn't desolate in any way, but it is not much people on the beaches (in Augusti as I arrived, now in winter the water is not warm enough to attract any sunbathers or simmers) nor in the restaurants and bars that are still open.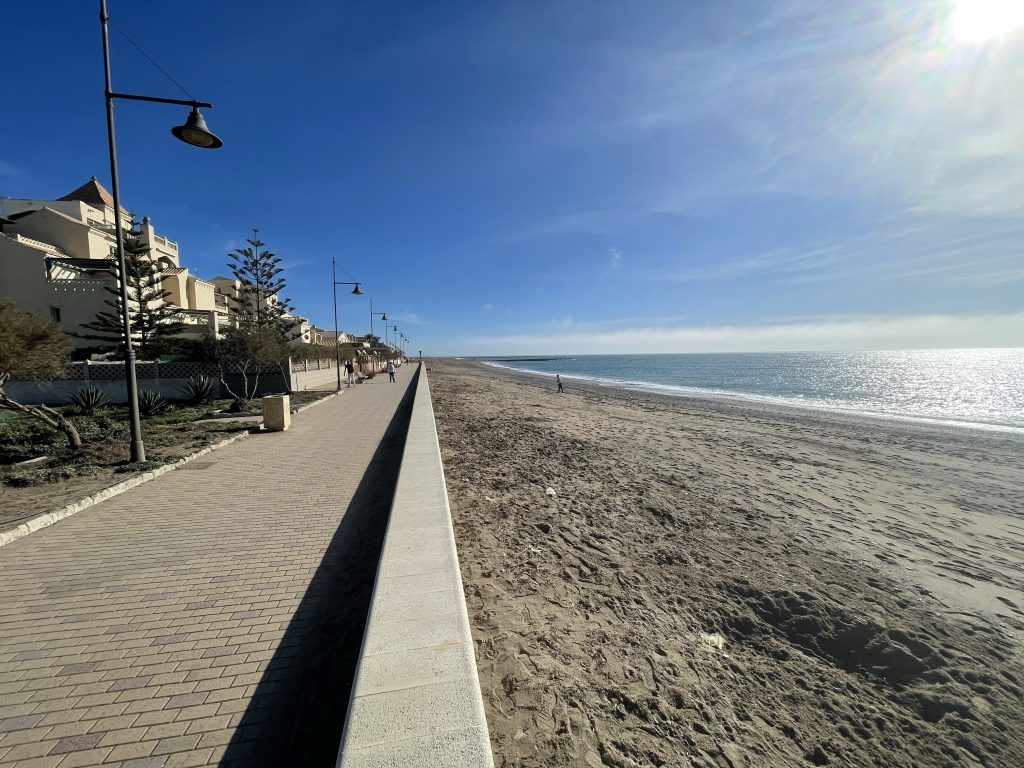 The heavy focus on building new hotels has unfortunately opened up for fast built, sterile kind of buildings that is rather common in Sweden, but in some places we can still see architecture that shows the heritage of the area. I wish they realized that this would be a much more intriguing and selling architecture for us from the north, like the one below.
The marina is a quite normal marina of this size. Nothing fancy really, but it has all that is needed for a nice stay, even for longer periods. Especially as it is priced to attract more to find this place.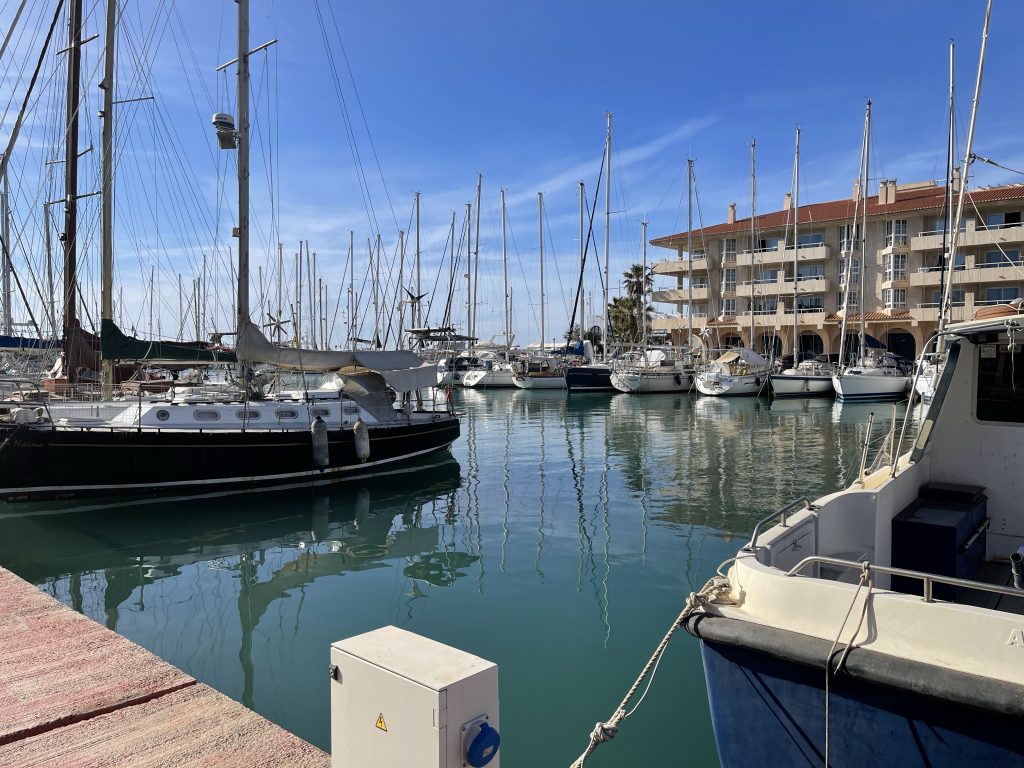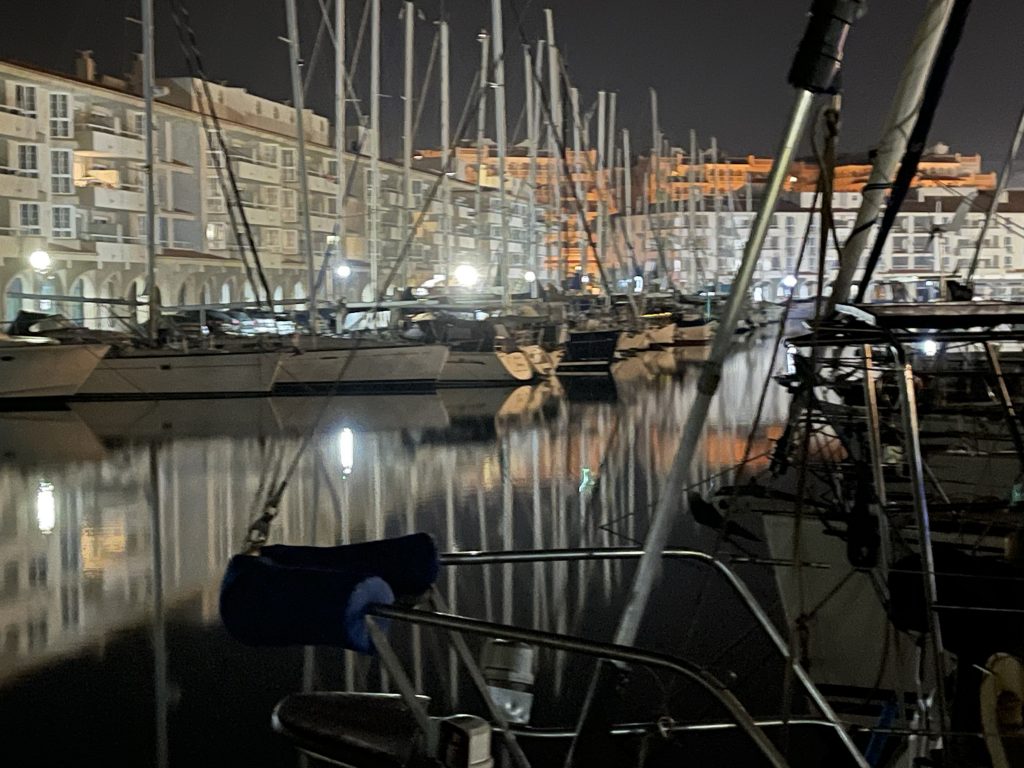 One thing that this place is blessed with are beautiful sunsets, as it sets over the ocean where all can see and enjoy. I never get tired of watching the sun slowly set into the ocean.
But not all is staring into the sunset here in Almerimar. There is a small community of liveaboards that brings the marina alive, people doing repairs, upgrades and in general preparing for the next season when it is time to go out there and do what we do best – enjoy the beautiful nature in and around the oceans of the world!
This group of persons are a special breed, usually openhearted, curious about others and very sociable. We all try in one way or another add to the community, helping out where needed, inviting to dinner or finding other ways to socialize. I have begun to introduce some of them to a few of the board games that I brought along, and they seem to like it even if the learning curve is somewhat steep and the games takes a bit longer, but it is expected when you start to learn a new game. We have tried Ticket to Ride and RoboRally so far, and in general it has been great fun!
There is also a small group of people that have moved here from other parts of Europe, mainly retired people, that enjoy the weather and the easy living. As far as I have understood most live here all year, in an apartment that from a Swedish point of view is reasonably cheap but still have what you expect. There is also a part of the town with smaller villages with gardens, which looks really nice. I would say that there are worse places to retire. Like Sweden, in winter. I usually listen to the news from Sweden every day as I start my day, just to stay reasonably informed, and they usually give a weather forecast. I think it was yesterday when the presenter said, with some joy and excitement in the voice, that there were some chance in the next few days that the sun would break trough the thick cloud cover! Well, all the pictures that you see in this post was taken the this week and I still have a hard time wrapping my head around that it is soon Christmas…
The post got a bit long, so I will write another for the hikes that we have, and I have something extra planned for it so stay tuned!