You know, I promised to blog more often… and here we are. Well, I know I can't make promises and then not keep them. To be honest though, I haven't made much physical progress. There has been a ton of planning, designing, making decisions and ordering stuff though. But it is probably not too exciting to read about. Being on lockdown makes it a tad more complicated than it already is living in a foreign country.
But let's get the show on the road, shall we?
So, what has happened since the last post? Well, I actually managed to install my water heater prior to that post, but after having the unwanted visitors it kind of affected me more than I initially thought. First of all I have had a hard time sleeping, as every little sound has woken me. Combine that with windy weather and it takes a toll mentally. I am sleeping better now though – and this post is a testament to that – so I feel better and I get more done.
So, first thing – water heater in place. Great stuff!
I have also had a long going… argument..? Discussion..? Convincing..? of the supplier of my BMS that they had a "feature" in their firmware making the product less efficient that would limit the possibilities of automating the power management of Away. Long story short, I got an updated firmware after about three weeks of convincing and it will be in their next official release as well. So, happy times! It means that I can leave the battery story behind, except…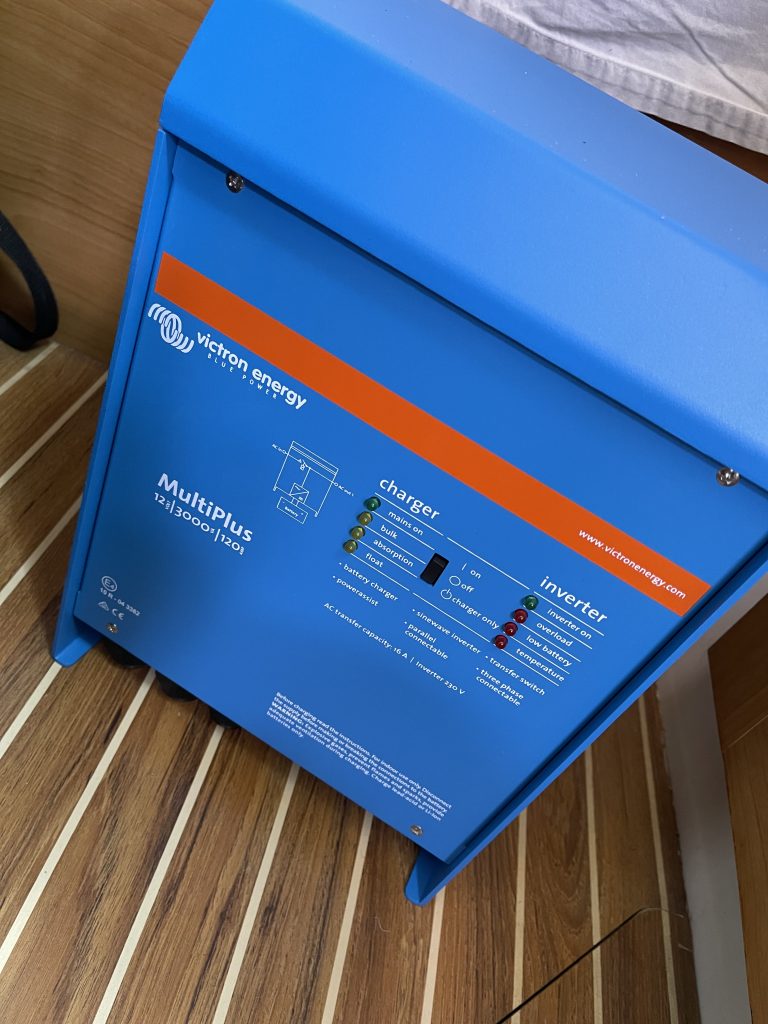 I bought another MultiPlus! It is the thingy that turns AC into DC when charging my batteries and it turns DC into AC when I use my induction stove top, my induction oven or any other AC appliance that I have. So I have to make some more battery related stuff in the near future still. Why I bought it is that I have realized that my maximum AC power of 10A will not be enough for a convenient life, and as they can be connected together and support twice the load I decided it would be a good investment. As a bonus I can charge my batteries twice as fast if I am connected to shore power. Which is nice, but hopefully not anything that will happen too often, because…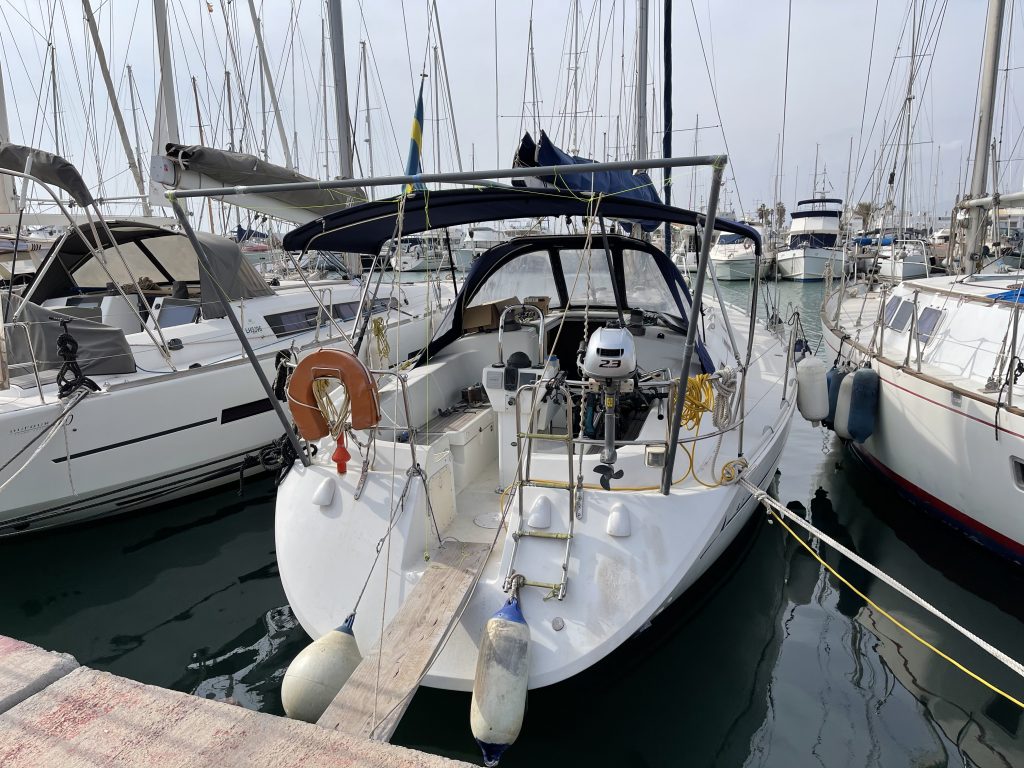 I have started to make a mockup for my solar panel arch! Yes, I know, it is just a couple of plastic pipes looking all weird and pointing in all directions. It is however the first step of getting it done. There will be more pipes added to the mockup and hopefully it will become a simple construction enough so that I can make without too much issues.
I also have the material to start building my swim platform, so I will soon start working on my welding skills, a welder is en route and I should have it by tomorrow. Another welder…!? Yeah… My plan was to weld with MIG, using flux cored welding thread, but I can't find any of the sort I need. So I would have to weld with normal, solid thread and using gas, which complicates things. And if I go the gas route I would rather have a TIG and get, in my opinion, nicer welds. Not sure I will be able to archive that, but at least I can try.
What else..? Oh, yes. I have moved to starboard quarterbirth for now, because I have torn the forward stateroom to pieces. Why? Well, I bought a new windlass that has a sheet drum, so that I can use it to lift my new tender onto the fore deck. I actually wanted to upgrade the one that I had, but the spare parts was actually more expensive than the whole shebang, so, yeah… A bonus is that I got a new solenoid with it and 3 years warranty. Which explains why I had to remove most of the liner in the forward stateroom, as I have to replace the wiring. It was stiff and I actually could break the terminals off the cables with my bare hands. So, yeah. maintenance way over due. A positive bonus is though that I will keep the old windlass that I can use for spare parts if needed. I do hope though that it will be fine for the time that I will own the boat.
The new and shiny windlass in place! The reason to swap it out is the drum above the gypsy, where the chain goes, to be used to lift the tender up on the fore deck easier, as the new tender weighs 42kg, compared to the old that weighs 27kg.
The old windlass was not properly covered, so the motor was exposed to the elements in the chain locker, the place in the boat where salt water is expected and accepted. Not ideal to have a motor exposed. The new will have a sealed cover fitted, which hopefully will keep it dry and nice. I might even drop in a silica bag in there for good measure, if any moisture gets trapped.
Talking about the tender, I have also managed to get a destination to send it in Gibraltar, which is good. So hopefully I will be able to pick it up some time in May. I got an email from the manufacturer that it will be going into production soon! Weeeh! So exciting!
On a little more frustrating note I have had issues starting the engine of the boat and two weeks ago it gave up permanently. All it does is beeps loudly when I turn on the ignition and that's it. I have to get a Volvo Penta service technician to take a look at it, but I'm not holding my breath. Most likely the MDI will have to be replaced. Another €700 just to get the boat to a former state. Great.
Oh! Talking about engines! I also ordered a brand spanking new Yamaha 9.9JMHS for the tender! Oh, yes! The tender has a recommendation of 8hp, but as the 9.9hp weighs just the same and gives about 23% more power – why not? Well, my reasoning was a little more that that, I mean, if I have a more powerful engine I can run it at lower revs and hopefully the wear will be less and reduce my fuel consumption. Or just get where I want to go faster.
That's all for now, carry on!