It has been almost two weeks since I posted last, and it is time to get blogging again!
So, what has happened? Well, I have focused a bit on comfort lately, primarily sleeping comfort. The mattress that the boat came with is fully functional for shorter stays, but as a liveaboard mattress it just didn't cut it. So I ordered two new mattresses from our beloved IKEA and went from 7cm mattress to 25cm of pure bliss! The MORGEDAL is quite stiff, but combined with the TUSTNA mattress topper it is just perfect. No more feeling the plywood through the mattress when sleeping on my side! Lying on my back it feels almost like before, but with the difference that I sink into the mattress just a little bit more, so that I can feel the support in the arc of my back. Super nice!
Fitting a square mattress in a non-square space is… a challenge. My idea to begin with was to cut the mattress to fit, but after some pushing and squeezing it actually conformed rather nicely (better done than perfect, right?). As a bonus I don't have to do a new cover for the mattress, but that would had to wait until I got an sewing machine anyway, so it wasn't an option at the moment anyway. So, very happy for that investment! Another thing that was a great bonus too is that the fabric of the cover isn't as slippery as the one of the original mattress and that means that the sheet stays in place much, much better and that in itself improves my sleep dramatically, not having to wrestle with the sheets all the time.
So, is that what I've been doing for two weeks? No, of course not. I've been continuing researching my lithium battery install and power upgrade of the boat. Trying to figure out how I want to do it, as there are thousands of parameters to consider. As my long-time plan is to get rid of the gas in the boat, I'm trying to figure out the best ways to do so. At the same time it ties into my future plans of redoing the interior of the boat and redoing the galley a bit, so I have to consider that too. Another thing that ties into these plans are solar power. I will have quite a large solar array on the boat (even if people say that you can never get too much solar, which I agree with) and to accommodate it I will have to have a solar arch.
So, after talking to some people here in the marina I decided I will make my own solar arch. Yes, I know. I'm nuts. But it will blend in nicely with my future plans of being self-sufficient, learning how to weld stainless. It can also be a way for me to make some money by offering the service to other cruisers and it so happens that I have already had people asking if I can do things for them, just hearing that I will make my own arch. I tell them that they will have to get back later, when I can show them what I have done and the quality that I can produce, haha! So I ordered a MIG-welder, some protective gear and some stainless weld thread with flux in it, so that I don't have to use gas when welding, as it would be a problem sourcing as I sail. Hopefully I will get proficient at it over time.
The first welding job won't be the solar arch though, my plan is to start with making a swim platform as it is less complex and only requires me to pick a design, get some stainless tubes and bends, and start cutting and welding it. After a lot of practice, of course!
But that haven't been all that I have been doing (even if the research does take quite some time, as well as finding sources for what I need). I have been joining in on some social events here in the marina too. Every Friday we meet and takes a hike in the mountains around Almerimar, which is a great way to get out of the marina for a while and to meet other sailors. I will for sure continue with this for as long as possible. I presume they will go on for the entire winter. Maria, our guide, is really happy that it has become less warm now so that the hikes can happen, as the temperatures has dropped to about 23-26°C now in October (I got 24°C in the boat at the moment, without any heater). I find it rather pleasant now actually, as I at the same time hear about snowstorms in northern Sweden at the moment.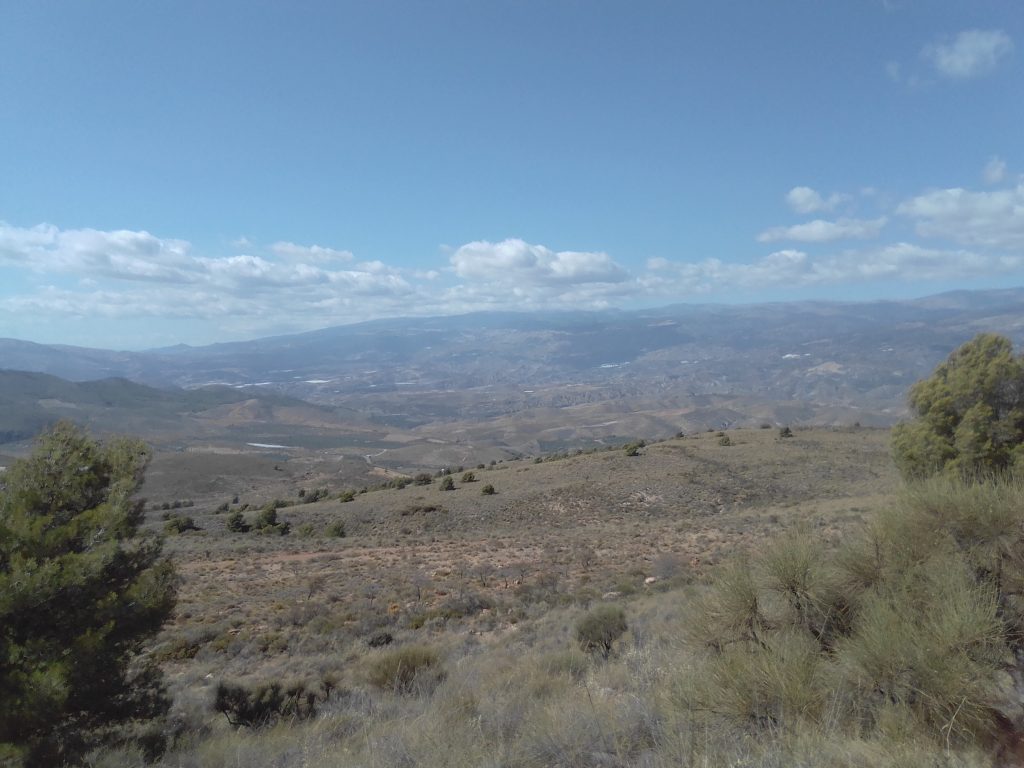 As I'm moving into project season, I also prepare for colder weather. Last week one morning when I woke up I noticed that water has been starting to condensate on the ceiling as I sleep, so I have ordered a dehumidifier that hopefully can reduce that problem to start with, and I will probably have to get a heater too as we go, but I haven't decided yet if I should go with a diesel heater that I can use wherever, or a temporary electrical one that I can use when on shore power – and simply try my best to not stay the winter in places where it gets as cold. We'll see when I get to a decision.